About Graematter
Company History
The original concept for the regulatory intelligence system was conceived by Graematter's founder, Melissa Walker, in 1999. An early-stage, pre-prototype version of the system was first created in 2000. It began as an effort to simply improve the ability to locate key information. As the volume of regulatory information began to expand dramatically and as the regulatory environment became increasingly complex, it continued to evolve.  Over time, Ms. Walker developed an intelligence system that provided simple, lower cost ways to better retrieve and analyze large amounts of data that reside in numerous locations. The evolving system has been in continuous use in actual applications during that time as its capabilities were expanded and improved.
Leadership Team
Merle Symes
Chief Executive Officer
Merle Symes has been managing or advising early-stage technology companies since 2001 and has been a partner or had equity positions in several new ventures. His last management role was as President and CEO of Ulrich Medical, a spine implants company, which he grew 65% over a three-year span at high levels of profitability. He serves as a mentor with Capital Innovators in St. Louis to IT ventures.
Prior to his work with early-stage technology companies, Mr. Symes served as Vice President, External Technology for Bausch & Lomb, which spearheaded the company's efforts in licensing technology and acquiring technology companies. He has served in various executive positions, both in the U.S. and Europe, for Wyeth and Monsanto and has served on the board of directors of both private and publicly held companies.
Mr. Symes has an MBA from the Wharton Graduate School and a B.S. in Chemical Engineering from the South Dakota School of Mines & Technology where he was honored with their Distinguished Alumni Award.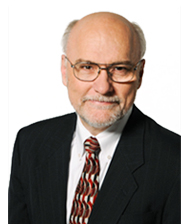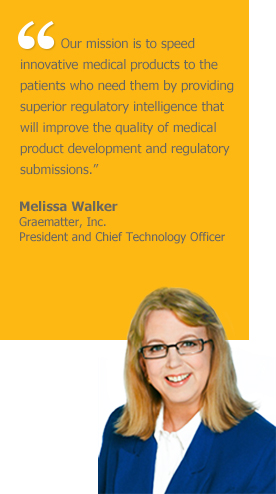 Melissa Walker
President and Chief Technology Officer
Melissa Walker is the founder of Graematter, Inc. Prior to founding the Company, she served as Senior Vice President, Regulatory, Quality, and Compliance for Stereotaxis where she was responsible for the regulatory, quality systems, and clinical research functions, including submissions, complaint-handling, regulatory compliance, clinical research, and healthcare compliance. Ms. Walker was a major contributor to its early growth and successful transition to a publicly traded company. Before Stereotaxis, Ms. Walker served in executive and senior positions at Bausch & Lomb and Ethicon Endo-Surgery, a Johnson & Johnson company.
Ms. Walker brings a depth of knowledge and experience of the regulatory profession on a global basis. She has managed or provided consulting expertise in this field to a number of medical product start-up companies in a variety of therapeutic areas. She has also served as a director and as Chairman of the Board of the Regulatory Affairs Professionals Society; as an industry representative on the FDA Medical Devices Dispute Resolution Panel; and as an expert witness.
Ms. Walker has been honored as a Fellow of the Regulatory Affairs Professionals Society and has earned RAC certification from the Regulatory Affairs Certification Board. She has an M.S. degree in Zoology and a B.S. degree in Biology and Animal Science from East Texas State University (now Texas A&M Commerce).
Lance Pool
Corporate Vice President and General Counsel
For nearly 40 years, Mr. Pool has practiced law in both the corporate and law firm setting in the area of business entity and corporate law. His practice has included business entity organization, contracts, regulatory, and commercial litigation.
Lance has been General Counsel for Fortune 500, insurance, and intellectual property companies, as well as the Executive Director of a multi-billion dollar trust. He has served as Managing Partner for both large and small law firms, representing his clients in state and federal courts across the nation, including the Supreme Court of the United States.
Mr. Pool received both a B. A. and a J.D. from Washburn University of Kansas, and attended the Executive Business Program of Stanford University Graduate School of Business, Palo Alto, CA. He is licensed in Texas (1986), Oklahoma (1979), and Kansas (1976), and is admitted to practice before the United States Supreme Court, the United States Court of Appeals for the Fifth and Tenth Circuits, and the United States District Courts for the District of Kansas, Northern and Western Districts of Oklahoma, and the Northern District of Texas. Mr. Pool is a member of the Texas Bar, the Oklahoma Bar, the Dallas Bar Association, the American Association for Justice, and the American Bar Association.